Finding Things to do For a Night Out could not be easier.
Socialyfe is a geolocation based content aggregator and publishing platform that provides users with the ability to select interests such as events or retailers that are specific to their interests. We use your selections and Machine Learning to provide a custom user experience, making it a one-stop platform for events and things to do.
One Stop Shop For Everything Entertainment
Living it up in the mobile age means juggling tons of apps, websites, and searches to match your lifestyle. But guess what? Socialyfe is here to change the game!
Tired of hopping around for Karaoke nights, festivals, or catching local musicians? Well, say hello to our all-in-one entertainment hub.
And the cherry on top? We're hooking you up with stuff right around your location.
It's like having a personal fun concierge!

Turn On Your Location Settings
Want some entertainment right where you're currently at? Flip on your location settings and let our app work its magic – no more endless hunts on different platforms! We've got a bunch of fun stuff lined up close to you in Phoenix.
Right now, we're all about Arizona, but brace yourself – we're gearing up to spread the fun vibes to other cities soon!
Just like you, we're all about privacy as well. We've got a solid privacy policy that's all about keeping your information safe. No selling of content, info, data – nada! Our app's all about giving you tailored content that matches your lifestyle. So, the info we've got on you? It's strictly for making your experience awesome and used for fine-tuning the fun stuff we show you.
Your trust means the world to us!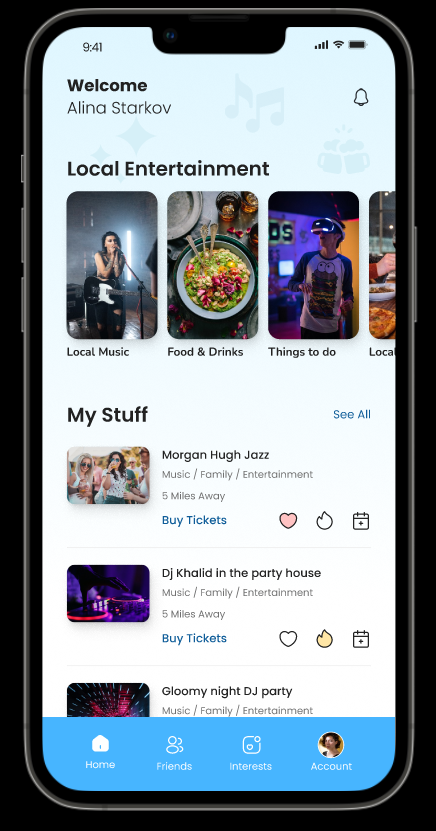 Feeling worn out and annoyed by those "things to do near me" searches that just don't get you?
No need to sweat it! Just tell the Socialyfe mobile app what music tickles your fancy and what kind of events you're into, and voila! We'll take care of the rest, filling your feed with all the awesome happenings that match your taste.
Easy peasy!
Think of Socialyfe when you think of: