Allow us to be your trusted partner for getting your business or event more exposure
An Entertainment App Like No Other
We're the go-to for events and entertainment, and we're on a mission to bring local folks right to your doorstep or event space – all by making sure they know what's happening!
From daily delights, weekly wonders, and even monthly marvels – we've got a lineup that's always buzzing.
And guess what? There are tons of peeps out there on the lookout for fun right around them. Question is, will they find you?
That's where we step in – making sure they're in the know about the cool things going on nearby!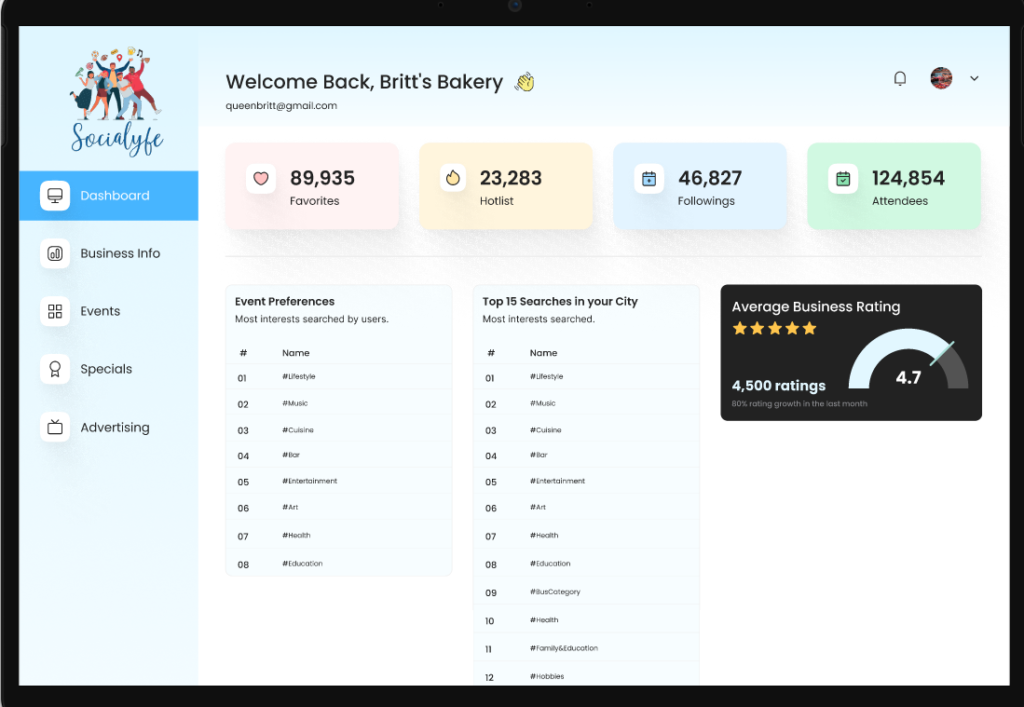 Feeling worn out and annoyed by those "things to do near me" searches that just don't get you?
No need to sweat it! Just tell the Socialyfe mobile app what music tickles your fancy and what kind of events you're into, and voila! We'll take care of the rest, filling your feed with all the awesome happenings that match your taste.
Easy peasy!
Think Socialyfe when you think of:
Our App Is All About Location, Location, Location
No matter what kind of entertainment consumers are after, we've got it sorted based on how close it is to them. The closer it is, the higher it shows up on their list.
And guess what? We're the only ones doing it!
All flavors of entertainment, right at their finger tips! It's like a personalized map to all the fun nearby. 
We're the only platform listing all categories of entertainment sorted by location!
Promote What's Unique About You
We're all about options – imagine hundreds of categories and sub-categories to really showcase your business or event. Our platform is fast and super user-friendly. You can even upload a bunch of events all at once using a spreadsheet or csv file.
And we're not just another megaphone for shot gun promotion. We're the real deal – helping you hit the bullseye with targeted marketing, growing a loyal following, and gaining precious insights into what our awesome users crave.
Let's make waves together!
Specific To Bars & Restaurants
Promote your a sports bar w/ 25 TV's and specific sports channels
Promote you have a dog friendly patio w/ misters
Promote you have arcade games, dart boards, Golden Tee, or Lottery scratchers
Get 5 star review ratings w/ no public shaming comments
Promote your specials separate from your happy hours
All for only $15.00 a month (unlimited updates or postings)
Specific To Event Promoters
Promote what specific types of refreshments your event will have
Promote what types of cuisine your event will have
Promote that your event is a carnival, food truck festival, sports, or farmers market
Promote that your event is kid friendly, young youth oriented, or adult
Promote that your event is animal friendly, its an exhibition, or a gallery event
All for only $3.99 a month (unlimited updates or postings)